All sessions of this carefully-selected group are led by facility owner Shannon Heggem, who has decades of dog behavioral and group play experience. Even the most shy, introverted dogs can often benefit from this type of closely-monitored social interaction. Play and interaction is alternated with rest and indoor nap time, and yummy homemade bone broth and organic treats are served as well!
Dogs of any age and size are welcome, however each dog is evaluated by Shannon to determine eligibility. Special accommodations are made for elderly, low energy, special-needs, and small dogs as well. These dogs enjoy Playcare just as much as young active dogs because it is all about interacting with a pack!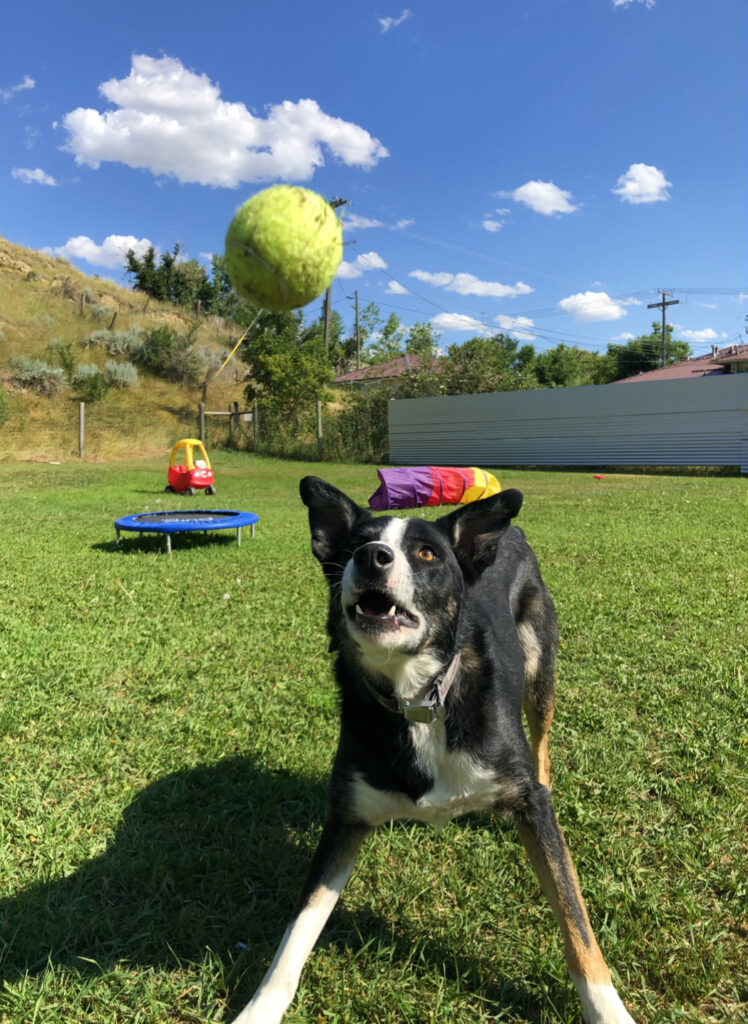 Your dog will enjoy closely-monitored and supervised social interaction with other dogs with similar temperaments!
Sessions held on Thursdays until 2 pm. (However dogs may be dropped off between 7-8:30 am, and may be picked up anytime from 2:30-6:30. )
Sessions are ongoing, you may sign up at any time.
Holiday parties! Yep, we celebrate the holidays with our Playcare guests (after Playcare ends) on holiday weeks! And our pawties are pretty awesome!
Most existing clients are automatically eligible, and may register by clicking here.
New clients must fill out an application (which can be found here) and submit vaccination records. We will then be in touch to schedule an evaluation to determine if your dog is eligible for our PLAYCARE program!
PRICING:
One dog, four session pass ($40 per day) $160 (plus $99 membership fee) Click here to pay now!
SAVE BIG! An eight session pass (for one dog) is $320 and NO membership fee! Click here to pay now!
Two dogs, four session pass ($52 per day) $208 (plus $99 membership fee) Click here to pay now!
SAVE BIG! An eight session pass (for two dogs) is $416 and NO membership fee! Click here to pay now!
Three dogs, four session pass ($62 per day) $248 (plus $99 membership fee) Click here to pay now!
SAVE BIG! An eight session pass (for three dogs) is $496 and NO membership fee! Click here to pay now!
Please note that we have a membership fee of $99 to enter our Playcare Program (but will waive this fee if you sign up for 8 consecutive sessions). We do this to encourage a minimum of a two-month commitment: Therefore, if you sign up for eight concurrent sessions of Playcare we will waive the membership fee!
ENROLLMENT POLICY: You may terminate your dog's enrollment in Playcare anytime, but it is best to do after your passes have been utilized as no refunds will be issued. Re-enrollment into the program is not guaranteed, and is subject to availability. Please be aware that the $99 membership fee will be charged for re-enrollment.
Important Details
DROP OFFS & PICK UPS: We have self-drop off and pick-up for PLAYCARE on Thursdays! Dogs may be dropped off between 7 and 8:30 am. Dogs may be picked up between 2:30 and 6:30 pm. (Playcare ends at 2 pm. HOWEVER, we have treat time and rest time, and we also need time to get all of the dogs ready to be picked up.)
PRICING & PAYMENT: Space for PLAYCARE is very limited. Passes must be purchased in order to secure a spot. Monthly passes are for four CONSECUTIVE Playcare sessions, and must be used as such. (If, for some reason your application is not approved, you will receive full refund.)
ATTENDANCE POLICY: Attendees who are unable to attend for any reason will have 50% of the session fee subtracted from their pass for each missed session. (Please note that this includes planned absences.)
ILLNESS & SANITATION: Kennel cough is prevalent right now in our area and it is HIGHLY contagious! Please please PLEASE notify Shannon via text IMMEDIATELY if your dog is or has been sick PRIOR to coming to PLAYCARE! If your dog has been coughing, gagging, hacking, sneezing, or sounding congested, if he has been vomiting or had diarrhea, if he has been itching excessively, if he has been lethargic or had no energy…Basically, PLEASE notify us if you have noticed anything unusual. We are POSITIVE that no one would bring a sick dog to PLAYCARE…not only because it would endanger the other dogs, but also because we would be forced to charge the owner a VERY hefty sanitation fee…and we don't want to have to do that. SO. PLEASE let us know if your dog has not been feeling well!! THANK YOU SO MUCH!
Our Playcare Program offers a unique opportunity for dogs to learn to participate safely in a pack situation and have a bunch of fun, too!